Herman H. Wadler
Campbell, CA 95008
E-mail: hwadler@wadler.org
Bicycle Advocacy:
Santa Clara County
Roads Commission
Roads Commissioner Chair
VTA BPAC Representative

Santa Clara Valley Transportation Authority (VTA)
Citizens Advisory Committee (CAC/CWC)
Chair
Past Vice Chair
Bicycle and Pedestrian Advisory Committee (BPAC)
Member
Past Chair
Past Vice Chair
City of Campbell
Former Bicycle/Pedistrian Advisory Committee Member
Past Chair
Past VTA BPAC Representative
Silicon Valley Bicycle Coalition (SVBC)

Former Board Member
Membership:
League of American Bicyclist

Member
League Cycling Instructor #1238
Almaden Cycle Touring Club (ACTC)
Current Past President
Political Action Chair
Member
Past Vice-President
Almaden Cycle Touring Club Academy
Dean of Communcions
Past Dean of Instruction

Past Experience:
Instructional Designer/Developer

sales and technical training
classroom and web based eLearning
education development and management
International training experience in Asia and Europe

sales
product marketing
California Designated Teachers Credential - Instructor at the community college level
A bicycle rider and a bicycle advocate.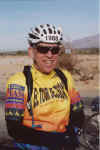 This is me at the El Tour de Tucson in November 2002.
108 Miles - 8 Hours 13 minutes
Riding a Diamond Frame.