October 1, 2003 Campbell, California Since 1999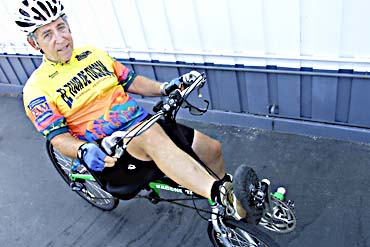 Photograph by Erin Day
Free Wheeling: Herman Wadler was recently appointed to the Campbell Bicycle Advisory
Committee. He is an avid cyclist and a member of the Almaden Cycling and Touring Club, Western
Wheelers and the League of American Bicyclists.
Cyclist part of group to make city bike-friendly
By Anne Gelhaus
Herman Wadler has been a big advocate of bicycle helmets ever since he went over the handlebars training for a long-distance ride.
"I wear a helmet anytime I ride," says Wadler, one of two new appointees to Campbell's Bicycle Advisory Committee. "When I see people riding without helmets, I don't like it at all."
Wadler says all the clubs he belongs to—the Almaden Cycling and Touring Club, Western Wheelers and the League of American Bicyclists—insist that their members wear protective headgear while cycling. He's earning a certificate from the League of American Bicyclists to teach bicycle safety and says he'll hold classes either on his own or through the city.
"I can't emphasize the safety aspects of cycling enough," Wadler says. "Hopefully, I can bring some of that to the city of Campbell."
Campbell established its five-member Bicycle Advisory Committee in 1994 to qualify for state Transportation Development Act funds. The committee advises city council and staff on bicycle policies and programs, including review and approval of the city's applications for Transportation Development Act funds administered by the Valley Transportation Authority.
Wadler has been pedaling hard to get up to speed on Campbell's bicycle laws. He attended his first advisory committee meeting on Sept. 17, at which most of the discussion centered on restriping some wider roads to include a bike lane. He has set up a link on his website at www.wadler.org so the public can scan city ordinances on the subject.
Meanwhile, Wadler has taken steps to ensure that his own recumbent bicycle is up to the city's standards. In accordance with the ordinance that forbids cyclists from carrying "any package, bundle or article which prevents the rider from keeping at least one hand on the handlebars," he uses a bag that fits over his seatback. And to keep it legal when he's riding at night, his bike is decked out with a headlamp and rear reflectors.
Since the advisory committee is also charged with making the city more bicycle-friendly, Wadler says, "I'll be looking more at streets as I drive around Campbell and at bicycle access to the community."
When he began cycling 2 1/2 years ago, Wadler rode primarily along the Los Gatos Creek Trail. Once he began training for long-distance rides, however, he took to surface streets on the advice of friends. "I'm moving pretty fast, so it's safer to be on the streets," he says.
Wadler tries to avoid high-traffic areas on his rides but will traverse them if necessary. "It doesn't bother me. I believe in sharing the road," he says. "Some motorists are very inconsiderate, but that's rare. Statistically, getting hit from behind isn't that common. More serious is cars turning into you or making a right-hand turn in front of you."
Cyclists have to do their part when it comes to sharing the road, Wadler says. "Bicyclists have to learn the rules of the road and common-sense etiquette. If you want to be treated with respect, you have to earn it."
And he notes, "If you have a riding buddy, you can learn etiquette and the tricks of the trade." His girlfriend also rides.
Wadler rides three to four times a week, pedaling 40 to 50 miles a shot. He completed the 108-mile El Tour de Tucson in eight hours, 13 minutes last November, riding an average of 14.4 miles an hour. "That's not a real high speed for some of the better riders, but it's good for me," he says. "My goal was to finish in 10 hours."